Let Us Do the Buying
We issue and manage purchase orders in your ERP or WMS system for selected items that you source, negotiate pricing for, and then assign to us to optimally sustain.
We are system-agnostic.  We can work with virtually any ERP or WMS system.
We monitor suppliers and their deliveries to ensure 100% raw material and/or product availability when you need it most.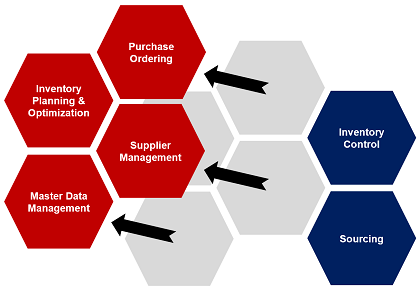 Hands-Off Material Availability
We enable manufacturers and distributors to improve their fulfillment lead times and on-time shipments by ensuring that materials, products, and/or supplies are maintained as needed to reliability meet demand.
We Support the Full PO Lifecycle
We manage purchase orders through the full lifecycle including:
Management and maintenance of master data and generated requirements
Placement of purchase orders
Deviations/alternate materials
Supplier follow-ups
Communicating material delays
Contacting freight companies for order status
PO/invoice troubleshooting
Master Data or System Challenges?
No problem.  Solving master data and system problems is our bread and butter.  Let us optimize your MRP data, material planning, and purchasing as your designated buyer/planner so you can reduce your operating costs while your team focuses on strategic objectives.
Inventory Management Challenges?
Learn about our inventory optimization services that can often drive inventory reductions from 20% to 60% while still sustaining material availability and service levels at 100%.  We optimize and maintain MRP master data for your selected material items to maximize economic inventory performance.  Additionally, we offer consulting services to help resolve MRP and inventory accuracy issues to establish best practices.
Pay As You Go
We allow you to expand your team often for 50% of the cost while still retaining the benefits of our specialized expertise and always-on execution.  Our transactional fee structure allows purchasing to be a variable cost rather than fixed.
We want to join your team!!
Some of our past successes:
Explore the Possibilities ...
Contact us to learn how we can make your supply chain significantly more efficient and effective